De nombreuses recherches ont prouvé que le chat en direct est devenu et reste le canal de communication digital le plus populaire auprès des clients. C'est également l'un des outils les plus flexibles que vous pouvez utiliser sur votre site web à des fins diverses, du support client aux ventes et au marketing proactif. Les exemples suivants de scripts de chat en direct prêts à l'emploi (réponses prédéfinies) pour les scénarios de chat en direct les plus courants aideront vos agents à :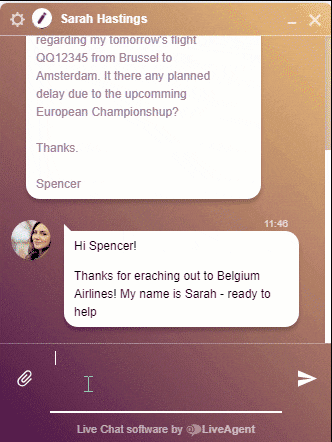 Fournir des réponses plus rapides lors des discussions avec les visiteurs et les clients ;
Éviter de saisir les mêmes messages encore et encore et améliorer l'efficacité ;
Interagir avec plusieurs visiteurs simultanément sans compromettre la prestation de services ;
Maintenir le juste ton de langage et délivrer un message de marque cohérent ;
Offrir une assistance à la clientèle en temps utile et améliorer la satisfaction des clients ;
Augmenter les conversions en ciblant de manière proactive les prospects sur des pages spécifiques du site web.
Démarrer un chat
Salutations communes
Salutations pour les visiteurs réguliers
Invitations proactives au chat
Visiteurs récurrents
Visiteurs inactifs
Page des tarifs/ page de sortie
Ventes proactives
Demande d'informations complémentaires
Demande des informations générales
Vérifier votre compréhension
Mise en attente
Dans la file d'attente
Au milieu d'une session de chat
Reprendre une session de chat
Transférer un chat
Gestion des plaintes
S'excuser pour un problème
Incapable de répondre à une demande
Fin de la discussion
Remercier un client
Quand un visiteur ne réagit pas
Ready to try our live chat templates?
LiveAgent is the fastest and leanest live chat solution on the market. Try it today with our free 14-day trial. No credit card required.
Free Trial